I posted a very half-hearted blog on International Women's Day and I think the lack of creative spark, well, sparked something. There are so many things I am passionate about that I could have blogged about, so why nothing but recycled memes? I think I was feeling helpless. Rampant misogyny in the US government, a leader embarrassing our gender in the UK, and a competent women is going to lose the election in my home province to a man under criminal investigation. Disheartening to say the least.
Then today, a notice from Netflix popped up and a documentary series I love will be off the platform as of April: The Ascent of Women, written and starring Dr. Amanda Foreman. I cued it up to re-watch it. She has me at hello:
"There has never been a better time to be born a woman. There are more female heads of government and more women leading organizations and running businesses than at any other time in history.


Yet, in many parts of the world women do not enjoy the same legal rights as men. They are relegated to unequal spheres without access to education or employment and for many the right to live free from physical and sexual violence is still a dream.


You can judge a civilization by the way it treats its women and the degree to which women have authority, agency, and autonomy.
To those who think women haven't played an active role in history that is simply a mindless narrative of oppression.

I want to throw down the gauntlet because I believe that any history of the world that excludes women or simply pushes them to the margins isn't just a distortion but an untruth that must be challenged."

Foreman, Amanda. (2015). The ascent of woman.
That last line "an untruth that must be challenged" hit me and suddenly a wild idea I had the other day seems more my obligation as a women and not wild. I well know that it may be just family, friends, and random blog readers that see what I put up. Say it is just my daughter, three step-daughters, younger sister, niece, and a handful of close friends? Maybe by shining a light on women's accomplishments I provide encouragement to one of them on a tough day when an insensitive man ignores her and interrupts a conversation with her pharmacist (#everdaysexism). Perhaps then she may feel, as I did when it happened to me last week, the courage to step up and say politely (through gritted teeth) "Excuse me, would you mind letting her finish my order?"
Beginning today, March 21, 2019 I pledge to shine a light on women's accomplishments through social media posts — 1 a day for 500 days. I'll be done August 2, 2020! Some of these will be here on WordPress, others will be short and sweet via Twitter, Instagram, Facebook, and maybe even YouTube.
Maybe YouTube. I am an INTJ and will work hard to avoid this.
500 Days of Women | Day I | Dr. Amanda Foreman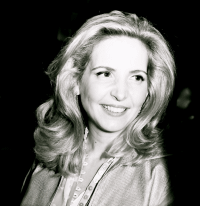 My rationale for selecting her is broader than the feeling those words inspired and the serendipity of timing. Dr. Foreman is a very accomplished women whose interests overlap with my own.
Gardening. Need I say more?
Amanda Foreman obtained a doctorate in history at Oxford, wrote two award-winning bestsellers — I could go on, but she has a website and it is written far more eloquently:
"Amanda Foreman is the author of the prize-winning best sellers, 'Georgiana, Duchess of Devonshire', and 'A World on Fire: A Epic History of Two Nations Divided'. She is currently a columnist for 'The Wall Street Journal'. Her latest work is the BBC documentary series, 'The Ascent of Woman'. In 2016, Foreman served as chair of The Man Booker Prize. Her book on the history of women, 'The World Made by Women', will be published in 2019. She is a co-founder of the literary nonprofit, House of SpeakEasy Foundation, a trustee of the Whiting Foundation, and an Honorary Research Senior Fellow in the History Department at the University of Liverpool. Amanda lives in New York with her husband and five children."

About the author: Amanda Foreman. (2019, March 20). Retrieved from https://www.dramandaforeman.com/
Reviewing the information on her website I noted that her commitment to women's issues appears throughout her publications and media work. There are a couple of books I plan to read: her latest and her first.
The World Made by Women: A History of Women from the Apple to the Pill
(coming in 2019)
and
Georgiana, Duchess of Devonshire
(available on amazon)
I read an article from The Telegraph about Dr. Foreman titled From lonely failure to duchess of Hollywood which paints a picture of a woman who struggled a bit to find her way. I truly admire her and wish her . . .
Peace & Progress